I re-watch movies I love, gave up a two straw habit because I live in California, and can multi-task like nobody's business. I'm always looking for the perfect chocolate chip cookie, a great vacation spot, the right amount of sun and shade, and I fall in love with people who keep it real.
My daytime powers include marketing for a non-profit while keeping up with my family and friends. Any time I am not doing any of the above, I can be found writing or wishing I was writing.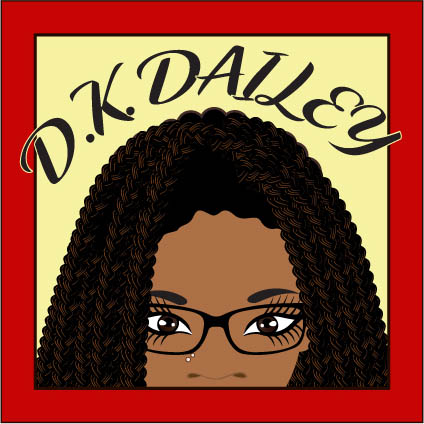 D.K. Dailey is an award-winning author (IPPY, NEIA, Moonbeam, and B.R.A.G. Medallion Honoree) of a growing series in the Golden Dreg world.
Dailey has a problem: kind of like I see dead people but for writers. Good thing she fuels that creativity to build worlds and create people who do what she says-well, most of the time. She says, if she wasn't a writer, she'd be just another nerd without a cause or direction.
Dailey's writing journey started as a child when she began writing sci-fi short stories, a result of watching countless hours of science fiction shows with her parents. With an inborn passion for telling stories, and writing songs and poems, her hobbies erupted into a career path after she penned a play in college and then her first novel. As a writer of color living in Northern California, she's immersed in a tapestry of culture and history that have consistently inspired and helped her pen numerous novels.
D.K. DAILEY'S APPEARANCES
KALW (NPA) Interview with Jeneé Darden
Interview with Jeneé Darden, an award-winning journalist, author, public speaker and proud Oakland native. She hosts the weekly arts segment Sights & Sounds and covers East Oakland for KALW. Jenee has reported for NPR, Marketplace, KQED, KPCC, The Los Angeles Times, Ebony magazine, Refinery29 and other outlets.
Episode 86 of Books Cubed Podcast
Interview with author and host Melissa Banczak who writes the June Nash Mystery Series and cowrites the non-fiction Roll-A-Prompt Writing Journal Series.
Pearl Passing Interview
The Write Way Café welcomes aspiring author D.K. Dailey, who will take readers on a remarkable three-generations story of strong women in Pearl Passing.
Oakland Voices Article
Meeting D.K. Dailey, you probably wouldn't guess her unique accomplishment – she's written 13 books. And even though she hasn't been published yet, she keeps writing.